A FOODIE DESTINATION IN SWEDISH LAPLAND
The food in Swedish Lapland is mostly made from local raw materials from nature's own organic pantry. That is also true here in Sorsele, Gargnäs and Ammarnäs. The flavors of the destinations are the flavors of the river, forests and the mountains. It is the taste of wild birds such as capercailie and ptarmigan, fish like char and whitefish, and of course the wild taste of the reindeer and the moose. It is the vibrant yellow taste of the chantarelles found in the mountains of Ammarnäs, and the equally colorful cloudberries from the mires. It's also the delicious taste of the free-range cattle found along the river valley – beef and lamb. These are tastes that are bold to the tongue and raw materials directly from nature to your plate.
You'll find Sami specialties like the gurpi and suovas on the menu in our restaurants, or the potato bun palt that gathers plenty of locals for lunch in Sorsele each Wednesday. Maybe you'll be treated to a soft flatbread and luscious jam, or a reindeer bone bouillon to warm up. Regardless, the food traditions here are the traditions of the Sami as well as the settlers. Tapping into what the area has to offer means tapping into the old traditions and preserving methods such as smoking and curing. However, it's not only about preserving the old traditions; it's also about taking it to the next level. The innovation and raw material refinement of our award winning artisan food makers, and handicraft of talented chefs, does exactly that. And all of them have their own character and their own way of working with food.
They might not brag about it, but the restaurants work with locally produced raw materials, and they all have their own take on it. While one of them experiments with fusion cuisine, another one is inspired by the Sami and whatever delicacies that can be picked outdoors. And, not to forget, there are also the ones that cook outdoors, with a camp fire, rather than a stove. You could enjoy a buffé dinner or a three course gourmet meal.
This is not a foodie destination with very refined cuisine; as genuine the people you meet are, as genuine is the food you are served. It's not overly fancy, but it's delicious and hearty. Our love for good food makes us an excellent choice for the food-interested traveler.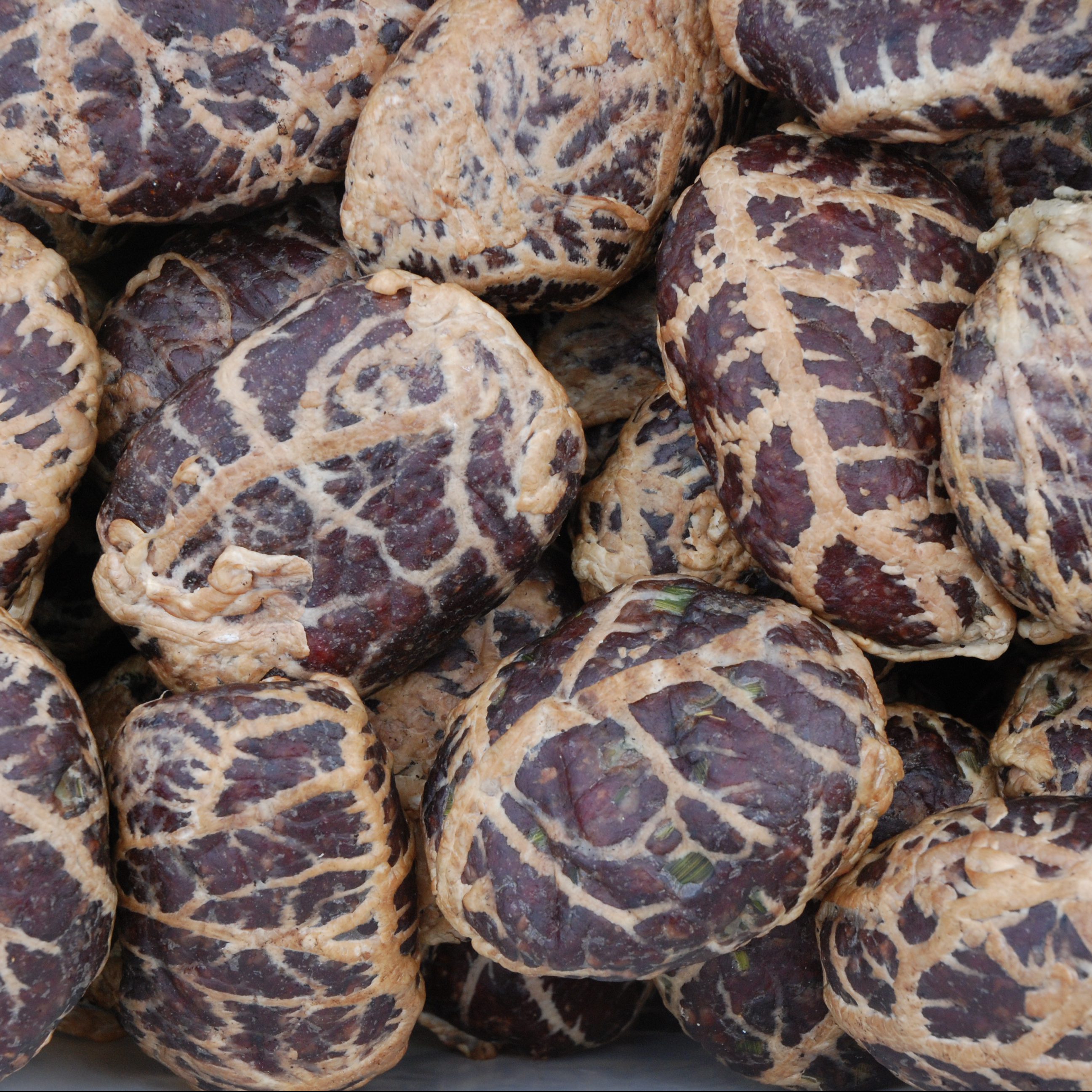 Gurpi
When the Gurpi is made, it's made from finely ground reindeer and fat. It is seasoned with salt, spices and herbs and wrapped in beautiful lace fatting into a crépinette – a flattened meat parcel, almost like a sausage, but not quite. Then the Gurpi is hanged into a smoking hut, giving it a characteristic smokey flavour.
Gurpi is enjoyed in many ways. Why not try the Gurpi instead of grilling a sausage? Barbeque it in open fire using a stick, or sear it in a pan or a muurikka. Something sweet and savory to that – maybe a soft flatbread like gahkku? – and you're ready to go.
Palt
Variants of the Palt are common in the north of Sweden. It is a course made from ground potatoes and wheat flour, filled with diced, salted pork belly and served with lingonberry jam and butter. It can also be done as a flat variant, where the pork belly is served fried as a side dish. Sometimes the wheat flour is mixed up with barley, giving the palt a greyish colour (but it tastes delicious!). Palt is made in different varieties, one of the most common ones with blood.
One of the most popular ways to enjoy palt is when it's cooked, chilled, diced and fried; preferrably outdoors over open fire.