A visit to a great restaurant can, of course, be a great food experience. When we're talking about food experiences, we mean somthing else: a full experience where food plays a special role. A food experience is an experience where activities, storytelling, learning and aromas all work together. And that's how we like it: the crackling of a campfire, fresh air and the aroma of burning wood makes food taste a little extra savoury. And being a part of preparing those raw materials and learning about traditional food makes you appreciate the taste even more.
There you have it. That's what we mean when we talk about a food experience. Come take a bite with us!
Anders Skum of Fjällvilt is a person who feels passionately about food, and that he makes amazing food in the open. There's no need to say much more.
At Geunja Sami Ecolodge, you can take part in everything from catching or gathering the raw materials – like fish, birds and plants – to preparing it and enjoying the taste of it – in the footsteps of Sami traditions.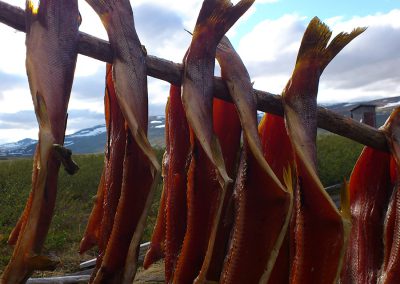 Welcome home to Ingrid Pilto in Ammarnäs – with her, a knowledgeable artisan food maker, you'll experience a food travel through the eight seasons of the reindeer. She'll invite you to tasty dishes with pictures and stories about the reindeer.